Earlier this week I made a post about businesses that get Twitter, and those that don't. I did not anticipate the huge reaction this post would have. As one of the most read blogs from the Columbia Business Times,  it is apparent there is a huge interest in social media, especially Twitter, in Columbia, MO. Most people and businesses have not started Tweeting simply because they have no clue where to begin. Let me be the first to throw you in the pool.

The easiest way to start figuring out this nebulous thing that is Twitter is to NOT tweet once you have created your account. Not tweet? But isn't that the point? I mean, it's called Twitter, you're supposed to tweet right?

I did not stutter. Once you have created your account think of a topic you are most interested in. It could be horses, beer, wine, children, dogs, or absolutely anything. You see, Twitter is about engaging and sharing information with each other.

When you create your account and login you will see a page that looks like this (you will have the standard theme so the colors will be different, but the layout is the same):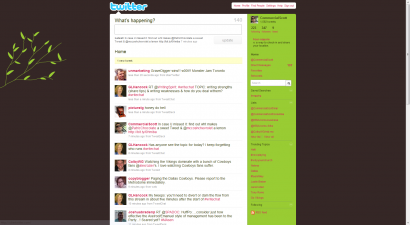 Look at the right sidebar for the search box:





Remember that topic you thought of earlier? Type the topic into this search box. If it's Mizzou Football simply type that in and hit enter. The example below shows the results of a "mizzou football" search. results for Mizzou Football

Start reading tweets. If you like one click the users name. Once you land on their page you can choose to follow them. The button is right below their pic.





Repeat this process with either the same topic, or any other topic you choose. That's the beauty of Twitter, it's like TV with millions of channels you can choose to subscribe or unsubscribe to on a whim.

After you start following a few people go back to your personal home page on Twitter. You will see tweets from everyone you follow show up in a stream with most recent on the top. These people might continue to interest you, or they might not. If they don't simply un-follow them. As you read Tweets respond to them if you have something to add, suggest, or sometimes a joke is just as great.

If you start following topics of interest and start engaging these people you follow one day you will wake up and realize "I GET TWITTER", I promise.
Posted By Scott Wendling